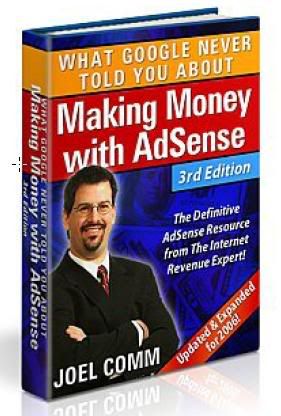 What Google Never Told You About Making Money with AdSense by Joel Comm is among the better books in the show and probably the best selling book on getting rich with Google Adsense.
Google AdWords and AdSense topics are usually bound as one book, but the principles for success are different.
If you have AdSense already, but have never read about the better strategies, this book is for you. If you have a content-driven site, finding ways to smartly integrate AdSense will be natural. Joel Comm can help you figure how and where you can use AdSense. It will help to have a general knowledge about how AdSense works.
This book is a concise guide on how to make money online using Google Adsense. It cuts to the chase and tells you what to do, how to do it and when to do it.
The book lays out in a very specific and detailed manner what you need to do to implement Google Adsense, how to maximize click throughs and how to set up adsense to generate the most revenue.
This book is great for beginners or advanced users of Adsense. Joel explains many ways to use adsense and places to include adsense that I'd never considered.
An added bonus is that the book also gives you many new ideas for generating new traffic to your blog or website.
This book is a must for every serious internet marketers bookshelf.
Joel Comm is an Internet entrepreneur who has been online for 20 years. In 1995, Joel launched WorldVillage.com, a family-friendly portal to the web which enjoys thousands of visitors each day. In 1997, him and his partner created ClassicGames.com, which was acquired by Yahoo!, and now goes by the name Yahoo! Games. Since then, his company has launched over a dozen web sites, including the popular bargain-hunting shopping site, DealofDay.com, SafetySurf.com and FamilyFirst.com. Joel Comm is the author of several best-selling ebooks that show people how to make money online, and regularly speaks and teaches at conferences, seminars and workshops. Joel is the host and executive producer of The Next Internet Millionaire, the world's first competitive Internet reality show.