Infolinks
is in-text advertising program which usually shows as a double-underlined link and the highest revenue share - guaranteed.
Infolinks
enables website owners and online content publishers to benefit from premium contextual ads.
Infolinks
In Text Ads expose online visitors to highly relevant content, don't require any additional space on the websites and are quick and easy to integrate.
It's similiar like
AdSense
and can be used by both publishers and advertisers.
The
Infolinks
ads can be shown along with
Google Adsense
and
Chitika
on the same page.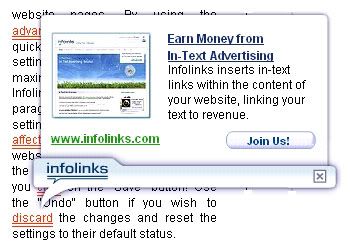 HOW IT WORKS?
In-Text advertising inserts text link advertisements within the content of your website, usually in the form of double-underline hyperlinks. Upon a hover of the mouse, a floating informational bubble opens with content from an advertiser. If clicked, the visitor is directed to the advertiser's landing page and you earn advertising revenue. Otherwise, when the mouse is moved away from the hyperlink, the bubble disappears.
In-Text advertising works on a CPC model, which means that each time a website visitor click on an Infolinks In-Text ad, the websites owner get paid. Learn how to get started with In-Text Advertising today.
ADVANTAGES :
Faster loading ads
Higher CTR
Nicer looking ads
Higher Revenue share
Quick and easy setup with no changes to your website
Ads are tightly integrated with your content – requiring no extra space
Free sign up with no commitments or risk
INFOLINKS AFFILIATE PROGRAM
For each publisher from your referral link, you will be entitled to one-time referral fees of up to $1,000 per new publisher, as follows :
Small Publisher - $25 (up to 10,000 average net Infolinks page impressions per day)
Medium Publisher - $100 (up to 100,000 average net Infolinks page impressions per day)
Large Publisher - $1,000 (over 100,000 average net Infolinks page impressions per day)
Publisher's traffic must have at least 30% of traffic from the US. If less than 30% of the publisher's traffic comes from the US then the referral fee will be 30% of the fees listed above.
PAYMENTS
Infolinks
Publishers receive payments via their preferred choice of PayPal or bank wire transfer.